My Blog
Posts for: September, 2018
By Gillette Dental PC
September 20, 2018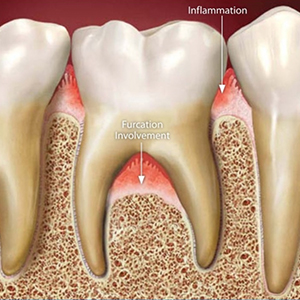 Periodontal disease may start in the gums' superficial layers, but it's not likely to stay there. As the disease moves deeper it can wreak havoc on tooth roots and bone as well as gum tissue attachments. Teeth with multiple roots are in particular peril because of the "forks" called furcations that form where the roots separate from each other. Infected furcations can be very difficult to treat.
We primarily treat gum disease by removing its main source, a thin film of bacteria and food particles called dental plaque that builds up on teeth. To remove it we most often use special hand tools or ultrasonic equipment to vibrate it loose. As the plaque and tartar diminish, the infection begins to wane.
But we can't be completely successful in stopping the disease if any lingering plaque deposits remain. This especially includes furcations where the infection can cause significant damage to the roots. Although cleaning furcations of plaque can be difficult, it's not impossible with the aforementioned tools and antimicrobial substances to disinfect the area.
The real problem, though, is access—effectively getting to the furcations to treat them. We may need to perform a surgical procedure called flap surgery where we create a hinged flap in the gum tissue to move it aside and access the root area beneath. Afterward we replace the flap and suture the tissue back in place.
In some cases, the infection may have already caused significant damage to the tissue and underlying bone. We may therefore need to graft gum or bone tissues to these damaged areas to stimulate re-growth. We may also need to surgically reshape the gum attachments around a tooth to make it easier in the future to access and clean the area.
These additional treatments around furcations can be very involved and labor-intensive. That's why the best outcomes occur if we're able to start treatment in the early stages of an infection. So, if you notice red, swollen or bleeding gums contact your dentist as soon as possible. Treating gum disease as early as possible will help ensure your tooth roots won't suffer extensive damage.
If you would like more information on treating gum disease, please contact us or schedule an appointment for a consultation. You can also learn more about this topic by reading the Dear Doctor magazine article "What are Furcations? Branching Tooth Roots can be Periodontal Nightmares."
By Gillette Dental PC
September 10, 2018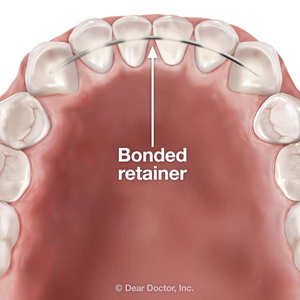 If you want to keep that new smile after orthodontic treatment, you'll need to wear a retainer for awhile. Teeth have a tendency to "rebound" to their old positions and a retainer prevents that from happening.
Most people are familiar with the standard removable retainer. But there's another option: a bonded retainer. While performing the same function as a removable one, the bonded retainer differs in one important aspect—it's fixed in place and can't be removed except by a dentist. It's especially useful for certain bite repairs like the closure of the gap between the front teeth.
If you're thinking this retainer sounds a lot like the braces just removed, it's not. The main part of a bonded retainer is a thin metal wire that we bond with a dental composite material across the back of the affected teeth. While you can definitely feel it with your tongue it can't be seen by others, which is an advantage over many removable retainers.
The fixed nature of bonded retainers also creates a couple of advantages, especially for younger patients. There's no compliance issue as with removable retainers—the patient doesn't have the option of taking it out. That also means it can't be lost, a frequent and costly occurrence with the removable variety.
But a bonded retainer does have some drawbacks. For one, the wire and composite material make it more difficult to floss. There's also a possibility of breakage from high biting forces, which if that should occur must be immediately repaired to avoid the teeth rebounding. But while removable retainers have their downsides, it's much easier with them to keep the teeth clean of plaque—you simply take the appliance out to brush and floss.
With your dentist's help you can weigh the pros and cons of both types of retainers and decide which is best for you or your child. Whichever one you choose, wearing a retainer will help protect that hard-earned smile for years to come.
If you would like more information on protecting your bite after orthodontic treatment, please contact us or schedule an appointment for a consultation. You can also learn more about this topic by reading the Dear Doctor magazine article "Bonded Retainers: What are the Pros and Cons?"