My Blog
Posts for: October, 2021
By Gillette Dental PC
October 14, 2021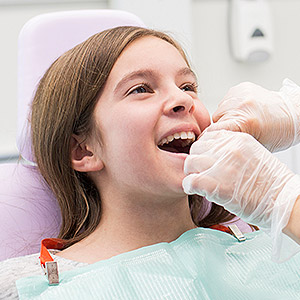 So, how's your child's bite? No, not how well they clamp down on things (like fingers—yikes!), but how the teeth on both jaws interact with each other. It's important to know because a bite problem can be a serious health concern.
A poor bite can lead to more than an unattractive smile. Misaligned teeth are more difficult to keep clean, which can increase the risk of both tooth decay and gum disease. Poor bites also lower the efficiency of chewing and food processing, making it harder for the body to absorb the nutrients it needs for optimum health. And, a poor bite can adversely affect the airway, which could lead to problems with obstructive sleep apnea later in life.
But finding out that your child's bite is going off course is a good thing—provided you discover it in its initial stages of development, that is. Early detection opens the door for interventions that could "right the ship," so to speak. In recognition of National Orthodontic Health Month this October, here are 4 things you can do to make that possible with a developing bite problem.
Get a bite evaluation. Although an abnormal bite develops gradually, it often provides early, subtle signs. An orthodontist or pediatric dentist can often detect these before the bite problem becomes too pronounced. It's a good idea, then, to have your child undergo an orthodontic evaluation around age 6.
Be alert to abnormalities. You may also be able to pick up some of these signs of abnormal bite development yourself. For example, if all the upper teeth don't slightly overlap the lower, something could be amiss. Likewise, crooked teeth, excessive gaps between teeth, or front teeth jutting too far forward are causes for concern. If you notice anything out of the ordinary, see your dentist as soon as possible.
Seek early treatment. You don't always have to wait until the teen years to start orthodontic treatment. Depending on the type of bite problem, interventional treatments can lessen or even stop poor bite development—in some cases, you may even be able to avoid future treatments like braces. As mentioned before, a bite evaluation around age 6 will facilitate the most treatment options.
Follow through on treatments. Orthodontic treatments are a lot like running a marathon—even after a long race, you're only truly successful if you cross the finish line. With bite correction, that finish line isn't necessarily when the braces come off—treatment continues with retainers to ensure there isn't a reversal of all that's been accomplished.
A bite problem can reverberate throughout a person's lifetime. But it doesn't have to! Being alert to your child's developing bite and taking prompt action can ensure they'll enjoy straighter teeth, more efficient dental function and an attractive smile.
If you would like more information about your child's orthodontic health, please contact us or schedule a consultation.
By Gillette Dental PC
October 04, 2021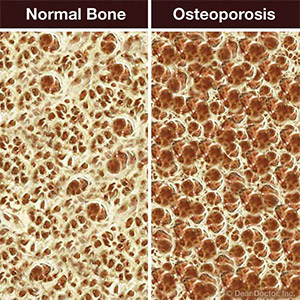 October 20th is World Osteoporosis Day, putting the spotlight on this degenerative bone condition and the impact it has on millions of people. Not only does it significantly increase the risk of potentially life-threatening fractures, but it can also indirectly affect dental health.
This connection arises from the use of certain treatment drugs that ultimately could lead to complications following some forms of dental work. These particular drugs, mainly bisphosphonates like Fosamax™ and RANKL inhibitors like Prolia™, destroy bone cells called osteoclasts, whose function is to clear away worn out regular bone cells (osteoblasts). With fewer osteoclasts targeting them, more older osteoblast cells survive longer.
In the short-term, a longer life for these older cells helps bones afflicted by osteoporosis to retain volume and density, and are thus less likely to fracture. Long-term, however, the surviving osteoblasts are less elastic and more brittle than newly formed cells.
In the end, these longer living cells could eventually weaken the bone. In rare situations, this can result in parts of the bone actually dying—a condition known as osteonecrosis. The bones of the body with the highest occurrences of osteonecrosis are the femur (the upper leg bone) and, of specific concern to dental care, the jawbone.
The effect of these medications on the jawbone actually has a name—drug-induced osteonecrosis of the jaw (DIONJ). Fortunately, there's only a 1% risk of it occurring if you're taking these drugs to manage osteoporosis. It's also not a concern for routine procedures like cleanings, fillings or crown placements. But DIONJ could lead to complications with more invasive dental work like tooth extraction, implant placement or periodontal surgery.
It's important, then, that your dentist knows if you're being treated for osteoporosis and the specific drugs you're taking. Depending on the medication, they may suggest, in coordination with your physician, that you take a "drug holiday"—go off of the drug for a set period of time—before a scheduled dental procedure to ease the risk and effects of osteonecrosis.
Because infection after dental work is one possible consequence of osteonecrosis, it's important that you practice thorough oral hygiene every day. Your dentist may also prescribe an antiseptic mouth rinse to include with your hygiene, as well as antibiotics.
You may also want to talk to your doctor about alternative treatments for osteoporosis that pose a lower risk for osteonecrosis. These can range from traditional Vitamin D and calcium supplements to emerging treatments that utilize hormones.
Osteoporosis can complicate dental work, but it doesn't have to prevent you from getting the procedures you need. Working with both your dentist and your physician, you can have the procedures you need to maintain your dental health.
If you would like more information about osteoporosis and dental care, please contact us or schedule a consultation.