My Blog
Posts for tag: tmd
By Gillette Dental PC
January 03, 2016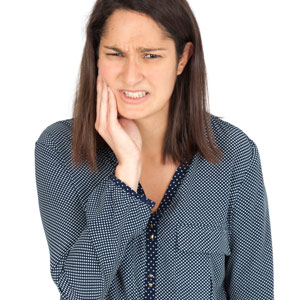 A blow to the face can result in a variety of injuries to your jaws and the temporomandibular joints (TMJs) that join the lower jaw to the skull. Only a thorough examination can determine the type and extent of the injury, and how to treat it.
The pain you feel in your jaw may indicate a direct injury, usually near the joint. This could mean the joint head (condyle) has dislocated, or moved out of the joint space. It could also mean you've fractured your lower jaw, most commonly just below the head of the joint.
Jaw pain can also indicate structures near the jaw and joint have been damaged and the jaw is indirectly affected. In some cases a damaged tooth may be radiating pain signals through the jaw (along similar nerve paths). More likely, trauma to soft tissue near the jaw joint has swelled with inflammation, putting pressure on the joint and temporarily stopping the condyle from seating fully in the joint space.
Any of these injuries can also cause painful muscle spasms, a defensive reaction from the body that causes muscles on either side of the jaw to limit movement preventing further damage (a natural splint, if you will). Thus, the pain may be compounded by a diminished range of motion when you try to chew or speak.
It's important, therefore, to determine the exact cause of pain and limited movement before commencing treatment. Spasms and inflammation are usually treated with muscle relaxant drugs and anti-inflammatory pain relievers. In the case of a dislocation, gentle manipulation can ease the condyle back into the joint space. A fracture would require more extensive treatment, including repositioning broken bone and immobilizing the jaw from movement to allow healing. In the most severe cases, surgical treatment may be necessary to internally immobilize the joint.
If you sustain an injury that results in jaw swelling and pain, you should see us without delay. The sooner we can diagnose and begin the proper treatment for your injury, the less likely you'll encounter long-term problems and the sooner you'll be pain and swelling free.
If you would like more information on the causes and treatment of jaw pain, please contact us or schedule an appointment for a consultation. You can also learn more about this topic by reading the Dear Doctor magazine article "Jaw Pain."
By Gillette Dental PC
October 05, 2015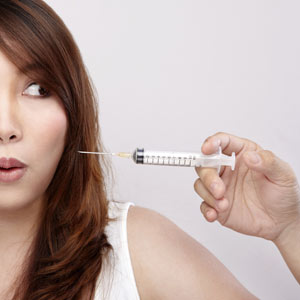 If you've suffered from problems with your jaw joints, known collectively as temporomandibular disorders (TMDs), then you know how uncomfortable and painful they can be. You may also have heard about the use of Botox injections to ease TMD discomfort.
Before you seek out Botox treatment for TMD, though, you should consider the current research on the matter. Far from a "miracle" treatment, the dental profession is still undecided on the effects of Botox to relieve TMD pain symptoms — and there are other risks to weigh as well.
Botox is an injectable drug with a poisonous substance called botulinum toxin type A derived from clostridium botulinum, a bacterium that causes muscle paralysis. The Food and Drug Administration (FDA) has approved small dose use for some medical and cosmetic procedures, like wrinkle augmentation. The idea behind its use for TMD is to relax the muscles connected to the joint by paralyzing them and thus relieve pain.
The FDA hasn't yet approved Botox for TMD treatment, although there's been some use for this purpose. There remain concerns about its effectiveness and possible complications. In the first place, Botox only relieves symptoms — it doesn't address the underlying cause of the discomfort. Even in this regard, a number of research studies seem to indicate Botox has no appreciable effect on pain relief.
As to side effects or other complications, Botox injections have been known to cause pain in some cases rather than relieve it, as with some patients developing chronic headaches after treatment. A few may build up resistance to the toxin, so that increasingly higher dosages are needed to achieve the same effect from lower dosages. And, yes, Botox is a temporary measure that must be repeated to continue its effect, which could lead to permanent paralyzing effects on the facial muscles and cause muscle atrophy (wasting away) and even deformity.
It may be more prudent to stick with conventional approaches that have well-documented benefits: a diet of easier to chew foods; cold and heat applications; physical therapy and exercises; pain-relief medications and muscle relaxers; and appliances to help control grinding habits. Although these can take time to produce significant relief, the relief may be longer lasting without undesirable side effects.
If you would like more information on treatments for TMD including Botox injections, please contact us or schedule an appointment for a consultation.